The Story of Vacant Lots in Southeastern San Diego: A Collaborative Ethnography & Mapping Project
(A colloquium presentation by: Annie Lorrie Anderson, Ph.D.)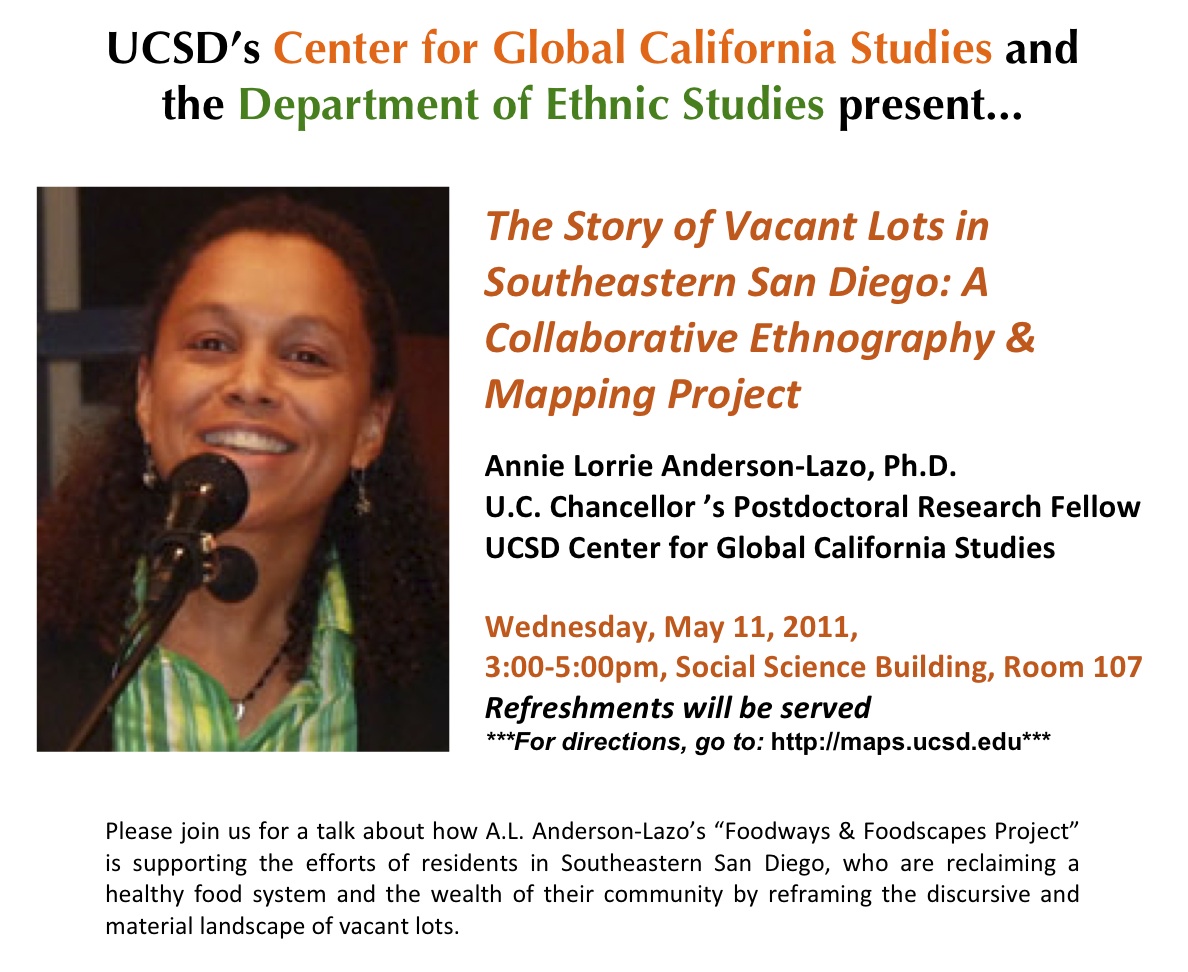 Wednesday, May 11, 2001, 3-5pm
Social Science Building, Room 107
(Dean's Conference Room)

Refreshments will be served
***For directions, go to: http://maps.ucsd.edu***
Please join us for a talk about how A.L. Anderson-Lazo's "Foodways & Foodscapes Project" is supporting the efforts of residents in Southeastern San Diego, who are reclaiming a healthy food system and the wealth of their community by reframing the discursive and material landscape of vacant lots.
Sponsored by: UCSD's Department of Ethnic Studies and the Center for Global California Studies.
---
Events
The Afro-Latin@ Reader:
History and Culture in the United States a book presentation by:
Miriam Jiménez Román & Juan Flores
Tuesday, April 19, 2011, 3-5pm
Social Science Building, Room 107
(Dean's Conference Room)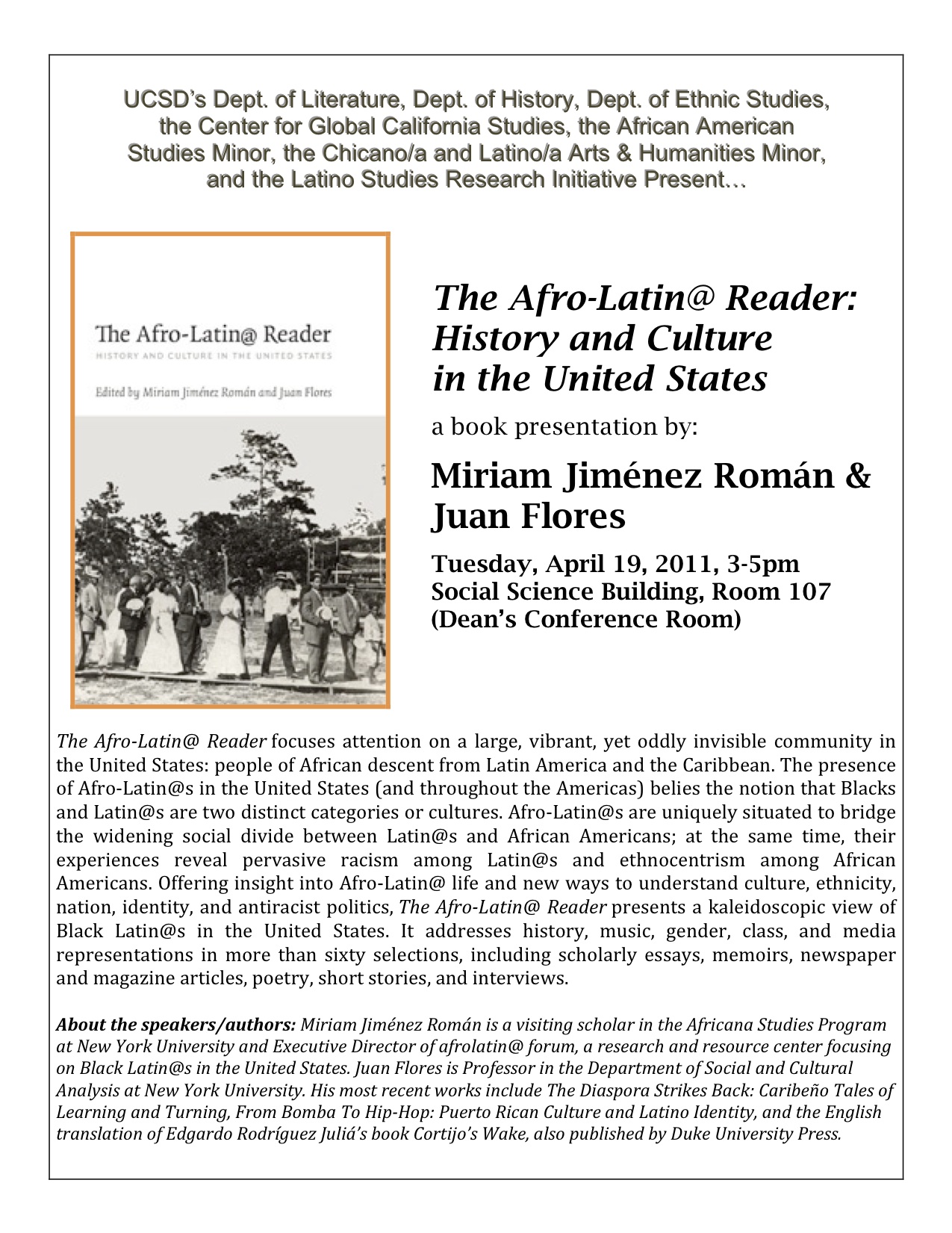 The Afro-Latin@ Reader focuses attention on a large, vibrant, yet oddly invisible community in the United States: people of African descent from Latin America and the Caribbean. The presence of Afro-Latin@s in the United States (and throughout the Americas) belies the notion that Blacks and Latin@s are two distinct categories or cultures. Afro-Latin@s are uniquely situated to bridge the widening social divide between Latin@s and African Americans; at the same time, their experiences reveal pervasive racism among Latin@s and ethnocentrism among African Americans. Offering insight into Afro-Latin@ life and new ways to understand culture, ethnicity, nation, identity, and antiracist politics, The Afro-Latin@ Reader presents a kaleidoscopic view of Black Latin@s in the United States. It addresses history, music, gender, class, and media representations in more than sixty selections, including scholarly essays, memoirs, newspaper and magazine articles, poetry, short stories, and interviews.
About the speakers/authors: Miriam Jiméz Romáis a visiting scholar in the Africana Studies Program at New York University and Executive Director of afrolatin@ forum, a research and resource center focusing on Black Latin@s in the United States. Juan Flores is Professor in the Department of Social and Cultural Analysis at New York University. His most recent works include The Diaspora Strikes Back: Caribeñales of Learning and Turning, From Bomba To Hip-Hop: Puerto Rican Culture and Latino Identity, and the English translation of Edgardo Rodrígueez Juliáá book Cortijo.'' ake, also published by Duke University Press.
Co-Sponsored by: UCSD's Dept. of Literature, Dept. of History, Dept. of Ethnic Studies, the Center for Global California Studies, the African American Studies Minor, the Chicano/a and Latino/a Arts & Humanities Minor, and the Latino Studies Research Initiative
---
Activist Scholarship and Collaborative Research:
A workshop for ethnographic researchers with Charles. R. Hale
Tuesday, April 19th, 2011
12:00-2:30 p.m.
Herb Schiller Seminar Room, Room 201
UCSD, Communication Building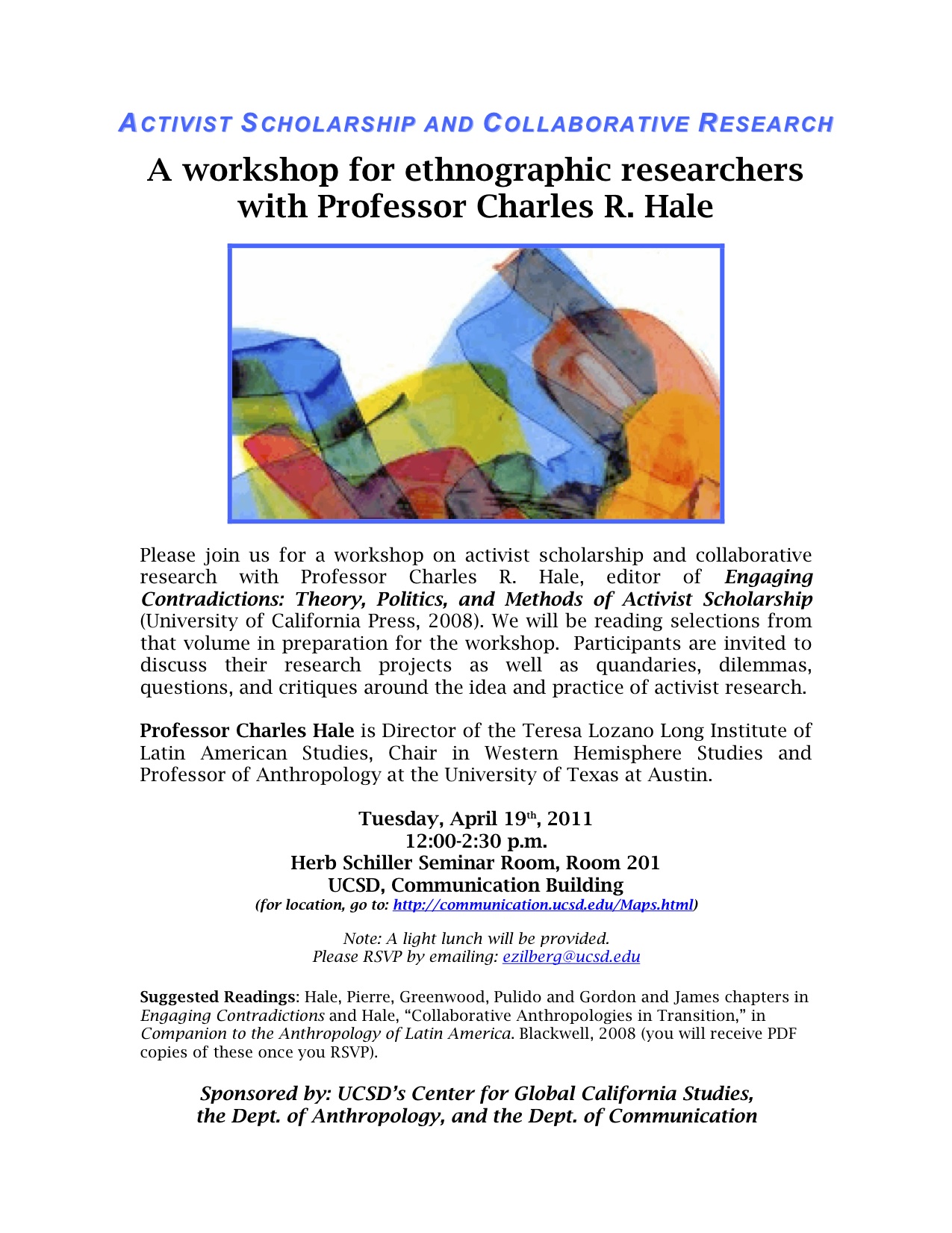 Note: A light lunch will be provided.
Please RSVP by emailing: ezilberg@ucsd.edu
Please join us for a workshop on activist scholarship and collaborative research with Professor Charles R. Hale, editor of Engaging Contradictions: Theory, Politics, and Methods of Activist Scholarship (University of California Press, 2008). We will be reading selections from that volume in preparation for the workshop. Participants are invited to discuss their research projects as well as quandaries, dilemmas, questions, and critiques around the idea and practice of activist research. Professor Charles Hale is Director of the Teresa Lozano Long Institute of Latin American Studies, Chair in Western Hemisphere Studies and Professor of Anthropology at the University of Texas at Austin. Suggested Readings: Hale, Pierre, Greenwood, Pulido and Gordon and James chapters in Engaging Contradictions and Hale, "Collaborative Anthropologies in Transition," in Companion to the Anthropology of Latin America. Blackwell, 2008 (you will receive PDF copies of these once you RSVP).
Sponsored by: UCSD's Center for Global California Studies, the Dept. of Anthropology, and the Dept. of Communication
---
11th Annual Cesar E. Chavez Community Tribute in Southeastern San Diego Saturday, April 2, 2011 — noon - 4:00pm
CESAR E. CHAVEZ COMMUNITY TRIBUTE
Educational Cultural Complex (4343 Oceanview Blvd., San Diego, CA)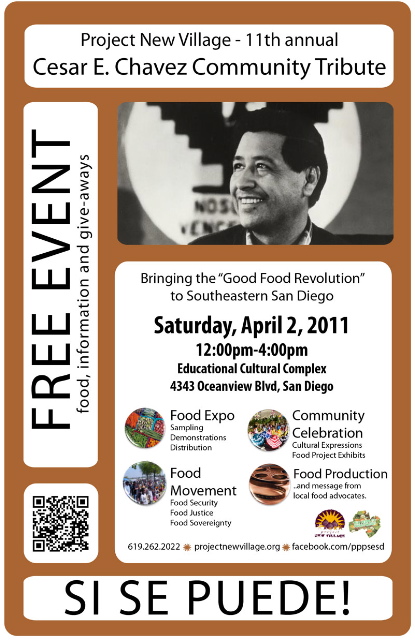 Project New Village will host its 11th Annual Cesar E. Chavez Community Tribute in Southeastern San Diego on Saturday, April 2, 2011, 12 noon - 4:00pm at ECC (4343 Oceanview Blvd., San Diego, CA). Thi s year we will honor Se&ntildeor Chavez's legacy of social justice and farming by highlighting the < em>"Good Food Revolution"; a national / international effort to promote urban farming among div erse groups in the inner city to address food injustice. Mr. Will Allen, CEO for Growing Power is th e titular leader of this movement.
This is a free fun event for all family members. The goal is to connect Southeastern San Diego to th e local and global food movement. We need volunteers and are still looking for wholesome entertainme nt. Please distribute this announcement widely and encourage people you know to join in the celebrat ion! See the attached event flyer for more information.
Confirmed Event Highlights include:
-Food distribution of 3,000 - 5,000 pounds of fresh produce donated by Feeding America
-Food sampling from local chefs
-Healthy cooking classes conducted by the American Heart Association and the Network for A Healthy C aliforniaMulticultural entertainment
-Solidarity statements from Community and Elected Leaders-Health and wellness information
-Exhibits on growing your own food and the food movement
-Food film presentation and discussion

(co-sponsored by UCSD's Center for Global California Studies)
---
Film Screening and Q & A Session - Monday, February 7 — 3:00pm - 5:00pm
Made In L.A.
The Hojel Auditorium (Institute of the Americas Complex @ UCSD, next to ERC College) 10111 North Torrey Pines Rd., La Jolla, CA
Made in L.A. is an Emmy award.winning feature documentary (70 min) that follows the remarkable story of three Latina immigrants working in Los Angeles garment sweatshops as they embark on a three.year odyssey to win basic labor protections from the trendy clothing retailer Forever 21. In intimate observational style, Made in L.A. reveals the impact of the struggle on each woman.s life as they are gradually transformed by the experience. Compelling, humorous, deeply human, Made in L.A. is a story about immigration, the power of unity, and the courage it takes to find your voice.
Featuring Lupe Hernáez and Joan Lo, two of the activists portrayed in the film.
Co-Sponsored by:
Critical Gender Studies
Chicano/a and Latino/aArts & Humanities minor (CLAH)
Center for Iberian and Latin American Studies
Department of Literature Global California Studies
Center for Global California Studies

---
Lecture Event - October 28, 2010, 12:00-1:00pm
Tom Hayden: Students and Social Action in the Age of Obama
Dolores Huerta/Philip Vera Cruz Room (Old Student Center, behind AS Soft Reserves, UC San Diego)
Tom Hayden – activist, founder of Students for a Democratic Society (SDS) and former Calif. state Senator and Assemblyman – will deliver a talk on student activism at noon, Oct. 28 in the Dolores Huerta/Philip Vera Cruz Room on the campus of the University of California, San Diego.
Hayden served as president of SDS from 1962 to 1963 and was a student at the University of Michigan when he drafted its most famous work, the Port Huron Statement. The statement reflected the dissatisfaction and disillusionment many young people were feeling in the 1960s and determined that race and alienation were the two major issues plaguing the country.
Hayden has taught at Pitzer College, Occidental College and Harvard's Institute of Politics. Hayden has served in the California State Assembly (1982-1992) and the State Senate (1992-2000). In 2006, he drafted and lobbied successfully for Los Angeles and San Francisco ordinances to end all taxpayer subsidies for sweatshops. He is the author or editor of seventeen books, including Rebel: A Personal History of the 1960s and The Lost Gospel of the Earth. Hayden regularly speaks at college campuses and is still engaged in activism on a number of issues.
The event is free and open to the to the public and is sponsored by the Chicano/a~Latino/a Arts and Humanities Program (CLAH), the California Cultures Program, Revelle College, and the Dept. of Literature. Co-sponsorted by the Chicano/a~Latino/a Arts & Humanities Program (CLAH), Revelle College, the Department of Literature, and the Center for Global California Studies.
Event is free and open to the public.
---
Conference • April 16, 2010
Failed State: Crisis and Renewal in California Politics and Culture
UC Davis, The Lodge @ the Rec Pool
What are the roots of our crisis? What are its implications for Californians and the world? And what hope do we have for reforming our way out of it? Join us in Davis as we explore causes, consequences, and prospects for renewal. MORE>
Co-sponsored by Boom: A Journal of California, the California Studies Association, the New America Foundation, UC Consortium for California Studies, and the Davis Humanities Institute, this conference is open to scholars, journalists, policy makers, activists, and members of the general public.