Center publications
Another University Is Possible
By: Another University Is Possible Editorial Collective
(with the support of UCSD's Center for Global California Studies)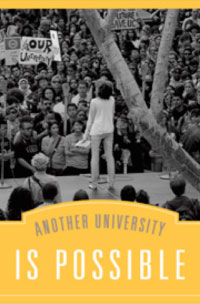 Between February 15 and March 4, 2010, students, staff, and faculty at the University of California, San Diego (UCSD) mobilized against a well publicized sequence of racist acts on campus and the on-going privatization of higher education. Building occupations and mass rallies, media campaigns and strategic debates were all part of the ebb and flow of a movement that faced three opponents: an inept administration; a student body riddled with ignorance and racism; and decades of active hostility directed by California voters against communities of color and the idea of equality in the Golden State.
As a snapshot of a movement and a moment, this collection deliberately avoids the presentation of a straightforward, linear narrative. Instead, the speeches, poems, statements, blog commentary and photographs within are meant to capture the contours and dynamism of this struggle during these few short weeks.
Another University is Possible was compiled with the hopes that it plays a small part in much broader efforts to:
Document the growing movement for racial and social justice at UCSD.
Compliment, help sustain, and regenerate the racial justice movement at UCSD.
Serve as a research, teaching, and organizing resource for use by students, staff, and faculty at UCSD and beyond engaged in the study of race, the university, and collaborative social change.
The editors of this book see recent events at UCSD as an opportune moment to begin thinking about how newly articulated racisms in a time of declared "colorblindness" combine exclusion, insult, and violence against communities of color, at the same time giving rise to new forms of alliance, solidarity, and transformative movements. It is in this spirit of continued struggle that this book is offered as a piece of the on-going racial justice movement, a conversation starter for future movements, and one reminder that UCSD can be a more equitable and racially just place of higher learning.
Paperback, 194 pages ISBN: 978-1609279-47-9; ©2010 $17.95
To purchase a copy, click HERE. It's also available in most major online booksellers (e.g., Amazon.com).