"(re)Thinking California: memory, borders and place"
Graduate Fellows Symposium
(Keynotes: Roberto Alvarez, UCSD & Josh Kun, USC)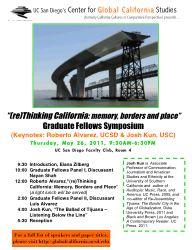 Thursday, May 26, 2011, 9:30AM-6:30PM
UC San Diego Faculty Club, Room 4
9:30-10:00- Introduction, Elana Zilberg
10:00-12:00- Panel 1, including presentations by Emma Johnson (Communication), Antonieta Mercado (Communication), Ryan Reft (History), and Candice Rice (Ethnic Studies). Commentator: Na yan Shah (History)
12:00-1:45- Keynote #1: Roberto Alvarez,"(re)Thinking California: Memory, Borders and Place " (a light lunch will be served)
2:00-3:45- Panel 2, including presentations by Susan Chen (Ethnic Studies), Charles Guthrie Miller (Visual Arts), Stevie Ruiz (Ethnic Studies), and Krystal Tribbet (History). Commentato r: Luis Alvarez (History).
4:00-5:30- Keynote #2: Josh Kun (USC, Communication), "The Ballad of Tijuana – Listening Be low the Line"
5:30-6:30- Reception
About the keynote speakers:
Roberto Alvarez is a Professor of Ethnic Studies here at UC San Diego. He is also the Director of the Center for Global California Studies. His latest book is titled: "Mangos, chiles, a nd truckers: the business of transnationalism" (U. of Minnesota Press, 2005).
Josh Kun is an Associate Professor of Communication, Journalism and American Studies and Et hnicity at the University of Southern California). Kun's research focuses on the arts and poli tics of cultural connection, with an emphasis on popular music, the cultures of globalization, the US-Mexico border, and Jewish-American musical history. He is the author of a number of wo rks including "Audiotopia: Music, Race, and America" (UC Press, 2005; Winner of the 2006 Ameri can Book Award).