"(re)Thinking California: memory, borders and place"
Graduate Fellows Symposium
(Keynotes: Roberto Alvarez, UCSD & Josh Kun, USC)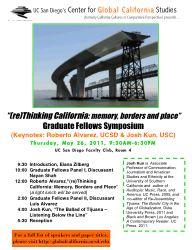 Thursday, May 26, 2011, 9:30AM-6:30PM
UC San Diego Faculty Club, Room 4
9:30-10:00- Introduction, Elana Zilberg
10:00-12:00- Panel 1, including presentations by Emma Johnson (Communication), Antonieta Mercado (Communication), Ryan Reft (History), and Candice Rice (Ethnic Studies). Commentator: Nayan Shah (History)
12:00-1:45- Keynote #1: Roberto Alvarez,"(re)Thinking California: Memory, Borders and Place" (a light lunch will be served)
2:00-3:45- Panel 2, including presentations by Susan Chen (Ethnic Studies), Charles Guthrie Miller (Visual Arts), Stevie Ruiz (Ethnic Studies), and Krystal Tribbet (History). Commentator: Luis Alvarez (History).
4:00-5:30- Keynote #2: Josh Kun (USC, Communication), "The Ballad of Tijuana – Listening Below the Line"
5:30-6:30- Reception
About the keynote speakers:
Roberto Alvarez is a Professor of Ethnic Studies here at UC San Diego. He is also the Director of the Center for Global California Studies. His latest book is titled: "Mangos, chiles, and truckers: the business of transnationalism" (U. of Minnesota Press, 2005).
Josh Kun is an Associate Professor of Communication, Journalism and American Studies and Ethnicity at the University of Southern California). Kun's research focuses on the arts and politics of cultural connection, with an emphasis on popular music, the cultures of globalization, the US-Mexico border, and Jewish-American musical history. He is the author of a number of works including "Audiotopia: Music, Race, and America" (UC Press, 2005; Winner of the 2006 American Book Award).
---
The Story of Vacant Lots in Southeastern San Diego: A Collaborative Ethnography & Mapping Project
(A colloquium presentation by: Annie Lorrie Anderson, Ph.D.)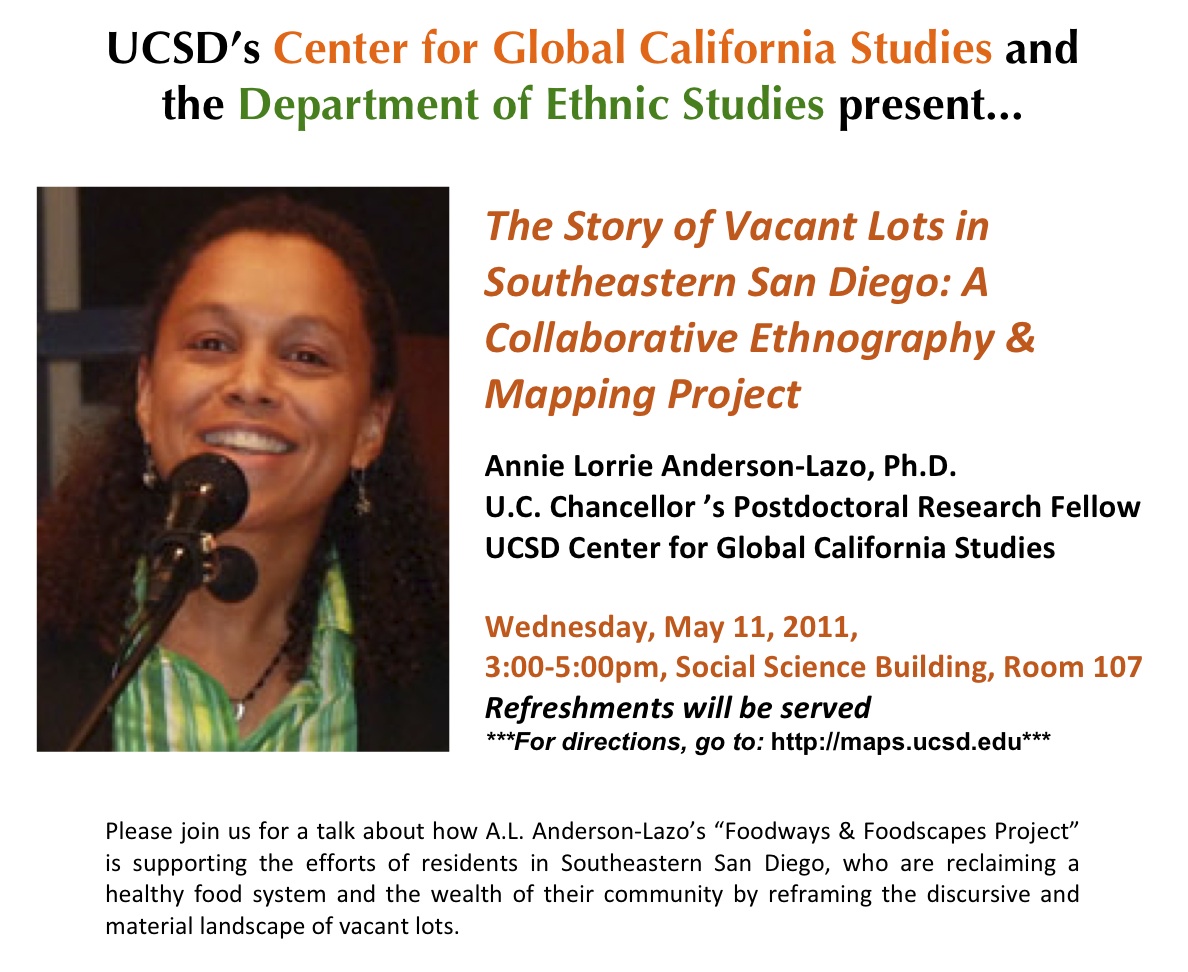 Wednesday, May 11, 2001, 3-5pm
Social Science Building, Room 107
(Dean's Conference Room)

Refreshments will be served
***For directions, go to: http://maps.ucsd.edu***
Please join us for a talk about how A.L. Anderson-Lazo's "Foodways & Foodscapes Project" is supporting the efforts of residents in Southeastern San Diego, who are reclaiming a healthy food system and the wealth of their community by reframing the discursive and material landscape of vacant lots.
Sponsored by: UCSD's Department of Ethnic Studies and the Center for Global California Studies.
---